On the 7 December Peace Brigades International UK, Simmons & Simmons and the Alliance for Lawyers at Risk will host the third annual Sir Henry Brooke Awards for Human Rights Defenders. The awards are held every year to celebrate the commitment of PBI UK's late patron Sir Henry Brooke, and consider the importance of the role that human rights defenders play in upholding the rule of law.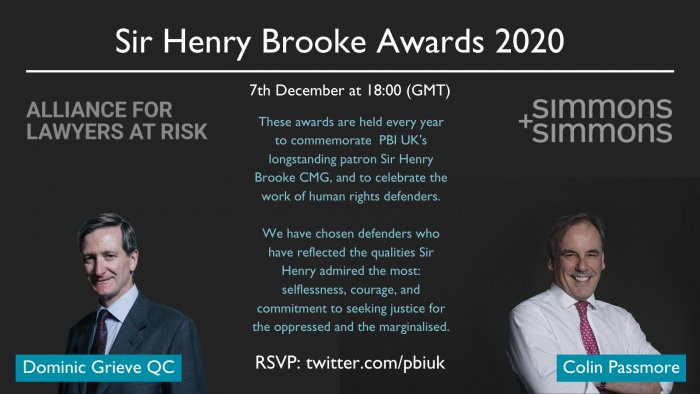 The COVID-19 pandemic has seen a massive scaling back of access to justice, and the extra-judicial murder of civilians and human rights defenders in several countries, with authoritarian governments using the public health crisis as an excuse to clamp down on civil liberties.
One of the awards will be presented to one lawyer involved in one of the most high profile cases of the year. The detention of former president Álvaro Uribe was ordered by the Colombian Supreme Court on the 4th August 2020, following an investigation spearheaded by human rights CAJAR lawyer Reinaldo Villalba.
The decision marks the first ever instance of a former Colombian president being detained. Álvaro Uribe Vélez served as the 31st President of Colombia from 2002 to 2010, in an administration that has been defined by its military campaign against the Revolutionary Armed Forces of Colombia (FARC).
Villalba manages penal and national litigation for The José Alvear Restrepo Lawyers' Collective (CAJAR), primarily criminal defence and the representation of victims of serious human rights violations. He has been unfairly vilified by the authorities and characterised as a defender of terrorism and an auxiliary of guerrilla forces, particularly since his work representing Senator Iván Cepeda.
'Managing a case of this kind generates a huge potential for risk and danger and we are extremely aware of that.'
Various witnesses have been murdered with impunity for their work on the trial of Santiago Uribe, the former president's brother. The lawyer reported that 'Senator Iván Cepeda Castro has had strangers lurking nearby his apartment and people who work with him have been attacked on social media by members of Álvaro Uribe Vélez's political party.'
Villalba has been a member of CAJAR for 28 years and is currently the president of the organisation. He is also one of vice-presidents of the International Federation for Human Rights. CAJAR is a Colombian non-governmental human rights organisation, which aims to contribute to the fight against impunity and the construction of a just and equitable society. The organisation is recognised nationally and internationally for representing emblematic cases of human rights violations in Colombia, both within the Colombian justice system and before the Inter-American System of Human Rights. The high profile nature of the cases it takes on has exposed the organisation to sustained attacks, threats and intimidation since its foundation.
According to information published on 1 May by the Colombian magazine Semana, CAJAR lawyers comprised some of the 130 individuals subject to "profiling and surveillance" from parts of the Colombian National Army. This has been linked to the collective's representation of victims of extrajudicial executions in cases against retired generals.
According to Villalba, these tactics have been used by senior government officials since the organisation was founded, and throughout Uribe's premiership. The former president 'got his intelligence body to attack human rights defenders in general', he claims 'and specifically to attack the José Alvear Restrepo Lawyers Collective.' The latter has led to the former president's trial at the Accusations Committee, which has yet to give its verdict. Impunity in Colombia is rife, meaning that a hearing has still not taken place. This is one of more than 200 such cases with the committee, in addition to those with the public prosecutor and even more in the hands of the Supreme Court.
The awards will be hosted by PBI UK Director Susi Bascon and Alliance for Lawyers at Risk President Sir Patrick Elias, and presented by former Attorney General and MP Dominic Grieve QC and Simmons & Simmons senior partner Colin Passmore. Reinaldo will be joined by fellow award-winner Dina Meza, who will speak about the situation for journalists in Honduras.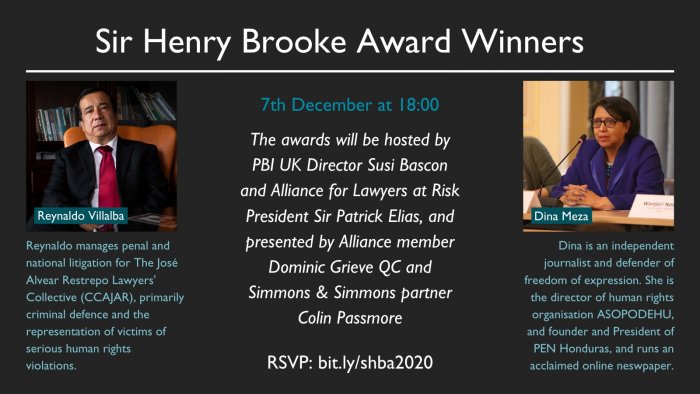 Editor's notes
• Sir Henry Brooke was a patron of Peace Brigades International UK. A lawyer at Fountain Court Chambers who went on to serve as a High Court Judge, Sir Henry's many achievements included chairing the Bar's Race Relations Committee, which introduced racial awareness training for English magistrates and judges. As a judge, Sir Henry travelled widely across the world to speak about human rights, penal reform, access to justice and equality issues.
• PBI UK is one of the world's leading NGOs working to protect human rights defenders. We provide life-saving support to human rights defenders in some of the most dangerous countries in the world. On the ground we provide direct protection and support, to keep defenders alive and help their activism thrive. Our international volunteers accompany at-risk activists, standing shoulder to shoulder with them in a display of solidarity that deters violent attacks. In addition, unlike other organisations in this space, we also provide longer-term support – from security monitoring and psychological assistance, to communications and capacity-building training.